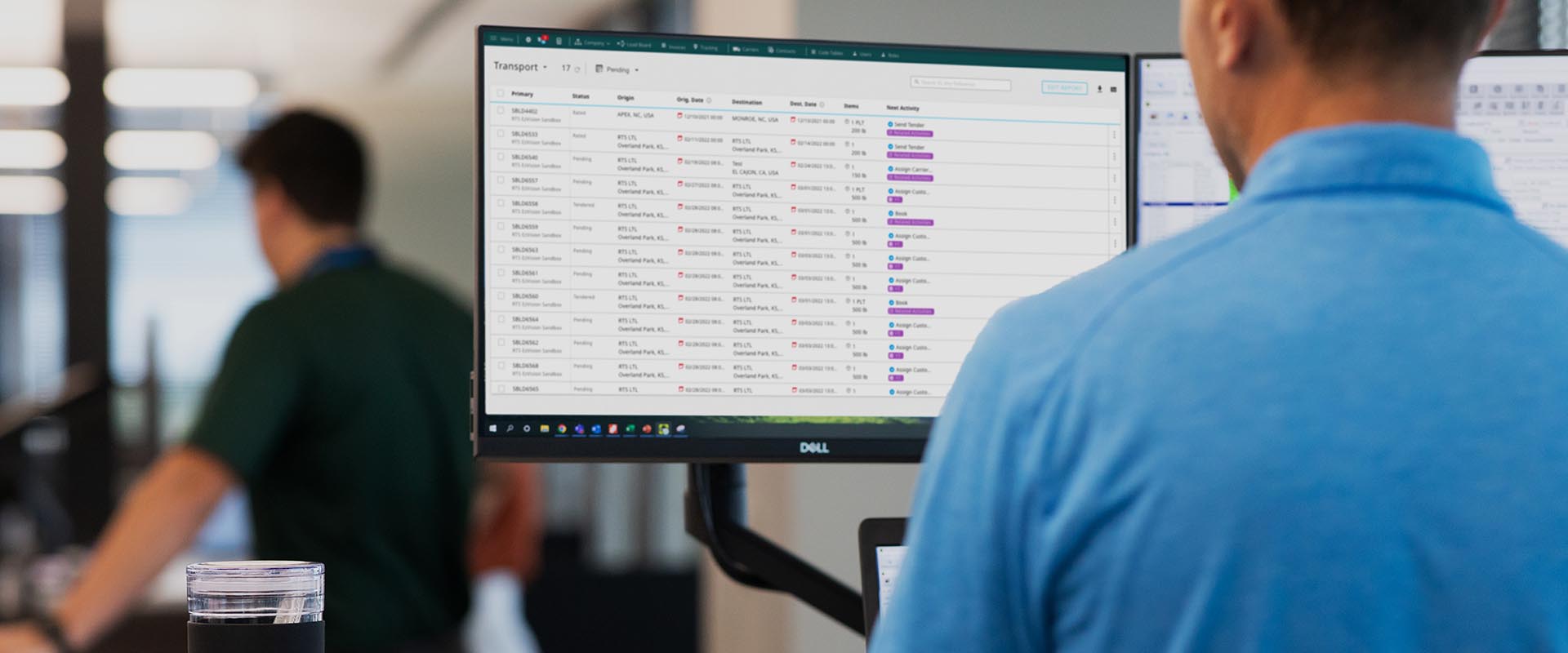 Across the supply chain, businesses have access to more data than ever before. The problem is, it's often spread across disjointed siloes that don't easily communicate with each other. Many companies still use spreadsheets and email to manage their logistics, which gets more difficult as supply chains get more complex.
Investing in a TMS helps you wrangle all of those disparate pieces of data into real-time, actionable insights that can help you reduce supply chain headaches and grow your business. It gives you visibility into your transportation operations while helping to keep track of documents and compliance across your transportation modes.
Here's what you need to know about TMS solutions:
A TMS Streamlines Your Supply Chain Activities
A good TMS provides support for all of your product movement needs. From deciding on shipping mode and carrier to generating detailed reports, your TMS gives you a much better view into the whole shipping process:
Planning – A TMS makes it easier to compare costs and distance so you can select the right carrier for each shipment. This is even more important if you have more complex, multi-leg transportation routes to manage.
Execution – Carrier communication, managing documentation, tracking, freight billing, settlement – all of these can be handled by your TMS. Many can also be automated, freeing up your team for other important tasks. A TMS can also facilitate real-time communication between carriers, fulfillment centers and customers to help you provide faster answers and a better experience to your buyers.
Optimization – Because it keeps all of your data in one place, a TMS makes it easier to track performance and generate reports that will help you make more informed (and often faster) business decisions.
5 Challenges a TMS Can Solve for You
What do all of these TMS capabilities look like in practice? From happier customers to better resilience and smarter business decisions, incorporating a TMS into your operation can dramatically strengthen your transportation process.
It helps you do more with less. Especially during times of upheaval like we've seen in recent years, organizations have to meet higher customer expectations – often with fewer resources. Not only do you have to keep up with changing demands, you often have to do it with tighter budgets, shrinking timelines and fewer employees. Finding places to boost efficiency, smooth rough spots in your supply chain and keep costs down is much easier when you have dashboards and reports to help you spot opportunities.
It makes it easier to provide a stellar customer experience. Customer expectations are only getting more stringent, and they have more options than ever to choose from. This is critical, since 63% of customers will leave a brand after a bad delivery experience. By offering robust tracking and reports that help you keep improving your transportation operations, a TMS helps you delight your customers and keep them from turning to competitors.
It connects previously siloed data. Speaking of tracking and reports, transportation management software gives you powerful data management capabilities. Massive amounts of information are generated across the supply chain every day – but if all of your data is in unconnected siloes, it's much more difficult to see where your biggest challenges and opportunities lie. This is where a TMS really shines – it can collect your disparate pieces of data, use predictive analytics and machine learning to measure against KPIs, and give you deeper insights into the health of your whole operation.
It builds a more flexible and resilient operation. The supply chain is always prone to disruptions, but the past few years have thrust those challenges into the public eye. A pandemic isn't the only potential threat to supply chains, though – economic challenges, weather extremes, geopolitical situations and more can throw a wrench into the works. Without deep visibility into your entire operation – and the ability to turn that visibility into actionable insights – it's much more difficult to gain the agility you need to adapt to these shifting needs.
It eases the burden on your operation from increasing supply chain complexity. With supply chains constantly in flux and greater calls for direct-to-consumer commerce, supply chains keep getting more complex to manage. You may have to deal with more complicated inventory needs, regulations, changing shipping distances and more concerns. This makes it all but essential to have technology in place that can help you easily manage multiple modes, channels and tighter shipping windows.
Supply chains across the board have to deal with challenges on a daily basis. Migrating manual processes to a software solution that collects and analyzes data to show you the best options for mitigating those challenges is critical. Transportation management software is the answer to today's challenges, and can help you pivot quickly to meet tomorrow's new concerns.