Whether you need a fully managed transportation management solution or a basic platform to quote LTL shipments, FLEX offers the experience, technology and support you need to manage your supply chain.
Fully managed solution for multimodal, including automations, integrations and customizations
Quick and easy login access to a leading-edge TMS platform in as little as 30 minutes
With FLEX, you get logistics experience, support and technology from Ryan Transportation to help you manage your robust transportation network and streamline your supply chain.

Transparency
100% transparent pricing structure with no hidden fees

Service
Best-in-class service paired with end-to-end visibility

Collaboration
Collaborative approach to provide customized solutions

Experience
35+ years building a reputation as one of the top TM providers
MORE THAN JUST A TRANSPORTATION MANAGEMENT SOLUTION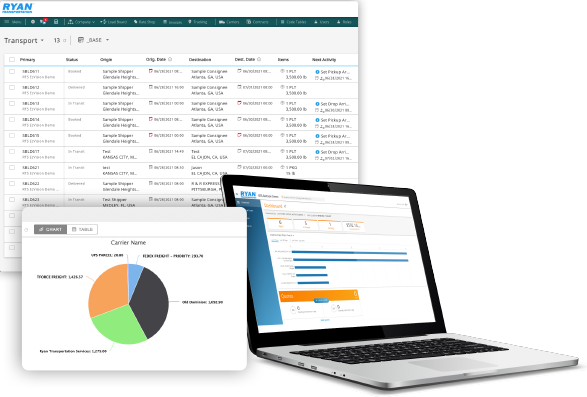 Ryan Transportation uses a leading-edge technology to turn the complexity of your shipping needs into a competitive advantage.
Web-based multimodal TMS platform
Automation options
Full integration capabilities
Transparent reporting
And more!
"Recent transportation uncertainty has made shipping challenging, but Ryan Transportation's creativity and customized distribution solution has been instrumental in improving the shipping experience for us and our customers."
- Transportation Director from a large
U.S. school supply manufacturer