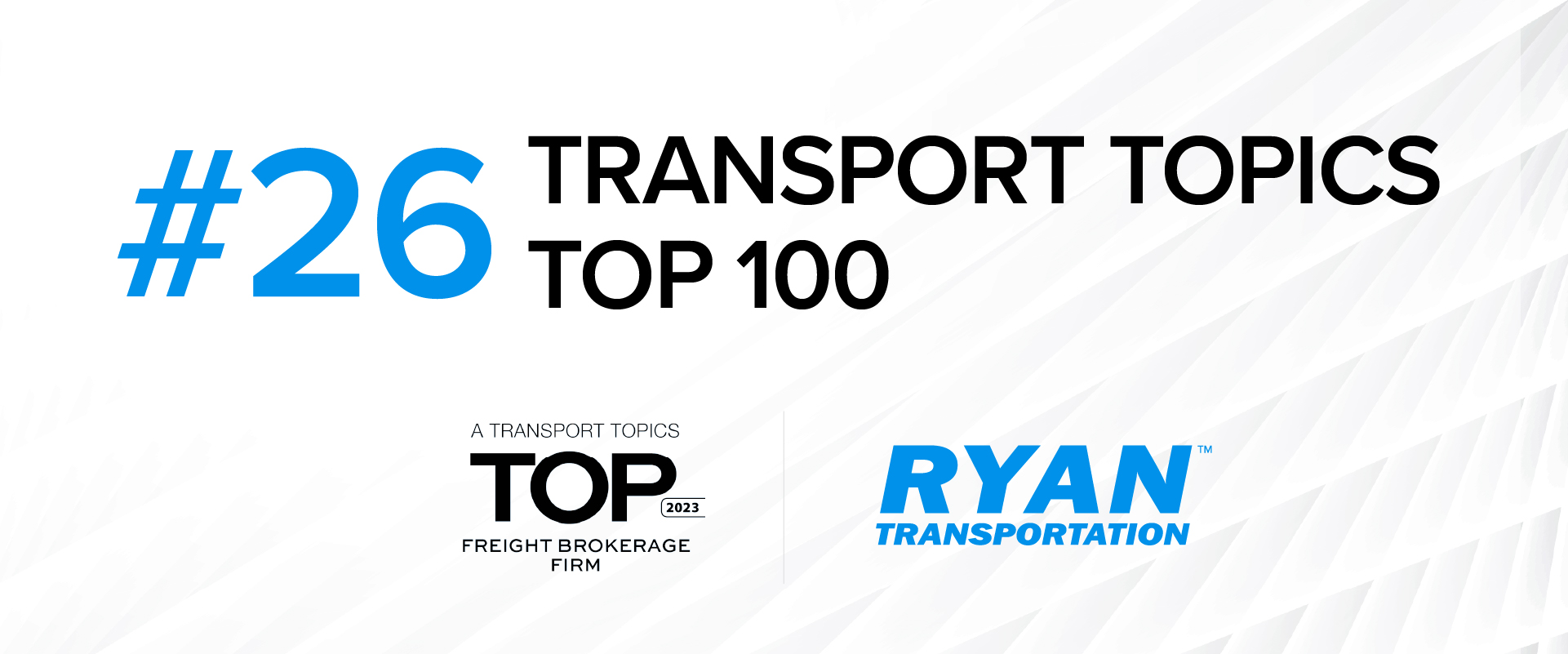 April 24, 2023 – Transport Topics just released its annual Top 100 list of the largest freight brokerage providers in North America, which is based on gross revenue for the most recent 12-month period. Ryan Transportation has been recognized as ranking 26th among all freight brokerage providers competing in the market and 66th on the Transport Topics Top 100 Logistics List.
 "We are honored and humbled to be included among transportation's largest and most recognizable names. As a key player in the industry, our advantage remains in the quality of the relationships we build with our customers and our carrier network," says Jeff Henderson, Ryan Transportation's Senior Vice President. "We have created a solution that benefits all parties with a priority on facilitating long-term, mutually beneficial growth and success for our customers, our partners and our people."
Transport Topics has been publishing these lists for nearly two decades and allows for a more comprehensive look at the leading names in third-party logistics. Each listing is accompanied by a detailed company overview, recent acquisitions and other relevant highlights prepared by Transport Topics editors and reporters.
"With the historic supply chain disruptions of the last few years receding into the past, third-party logistics providers have been adjusting to normalizing freight market conditions while working to build more efficient and resilient supply chains for the future," said Seth Clevenger, Transport Topics' managing editor of features. "The Transport Topics Top 100 Logistics Companies list offers an updated look at how the industry's largest 3PLs are adapting to this shifting business landscape."
To learn who made the list and read more about the issues facing logistics companies, visit Transport Topics at https://www.ttnews.com/logistics/rankings/2023.
For more information on Ryan Transportation, contact Dana Schneider at mediarequests@shamrocktradingcorp.com. 
ABOUT RYAN TRANSPORTATION
Ryan Transportation is a third-party logistics company specializing in freight brokerage services and managed transportation. Since 1986, we've helped companies throughout North America take control of their shipping and improve their supply chains. Ryan Transportation is part of Shamrock Trading Corporation, the parent company for a family of brands in transportation services, finance and technology. Headquartered in Overland Park, KS, we have offices in Atlanta, Chicago, Dallas, Ft. Lauderdale, Laredo, Midland, Nashville and Phoenix. For more information, visit www.ryantrans.com.
ABOUT TRANSPORT TOPICS
Transport Topics is the news leader in freight transportation and has been for the last 87 years. When it comes to major issues, industry events, and new developments, Transport Topics journalists are there first and most often. Our hallmark coverage of the regulatory environment and the business and technology landscapes makes TT unique — a major multimedia channel, personalized for transportation. Read us daily at www.ttnews.com.