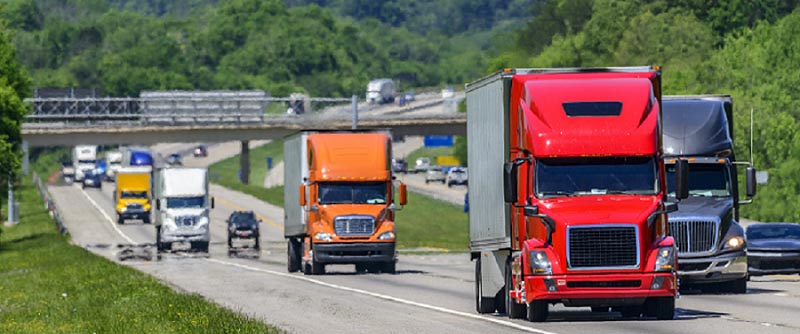 Updated January 2022
A shortage of qualified drivers has challenged the trucking industry for several years and is only getting worse. The American Trucking Associations estimates that there is a nationwide shortage of more than 80,000 drivers today. The ATA expects that gap to increase throughout 2022.
There are many reasons for the shortage. Wall Street research firm Stifel, Nicolaus & Co. has reported that truckload carriers lost 20% of capacity during the Great Recession. Recent changes to hours of services, CSA scores and other regulations have led many qualified truck drivers to leave the business. Meanwhile, the idea of driving a rig has not appealed to younger workers. The average age of American truck drivers today is 55.
The shortage, combined with an increase in freight tonnage, has given carriers the upper hand when negotiating rates with shippers. Analysts with Stifel Nicolaus project that freight rates will increase between 3% and 5% in 2015.
Fortunately, shippers have some options in the face of a growing economy and limited trucking capacity. One of those options is enlisting the help of a proven transportation company. An experienced freight brokerage or third-party logistics provider (3PL) can give a shipper some much-needed leverage in working with carriers.
Here are the key ways that having a trusted outside partner in transportation can help:
Greater Capacity
Many companies rely on one or two carriers to handle all their shipping needs. That arrangement can work in a "shipper's market," when rates are low and there are plenty of power units to haul freight. But what happens when capacity gets tight? Suddenly, those dedicated carriers have the advantage.
Shippers can even the playing field by partnering with a freight brokerage that works with hundreds and sometimes thousands of trucking companies. This gives a shipper instant capacity and more negotiating power. If a dedicated carrier wants to raise rates or balks at serving a particular lane, the shipper can turn to the brokerage's network of carriers. Brokerages that specialize in all modes of freight services are particularly effective in building truck capacity across more routes.
Controlled Costs
A recent survey of shippers by Morgan Stanley found that most of them expected capacity to remain "very tight" in 2015 across all modes, particularly truckload. Freight rates have reflected this shortage of drivers and trucks. Average rates for van, flatbed and refrigerated freight increased last year. Those rates are climbing again as freight tonnage has increased this spring, according to freight-matching service DAT Solutions.
Freight brokers offer shippers a deeper pool of carriers to choose from, giving them greater control over their transportation costs. A freight brokerage or 3PL with strong logistics capabilities can also help a shipper identify ways to make its supply chain more cost-efficient. In recent years, more small- to mid-sized shippers have looked to 3PLs to handle various aspects of their transportation management. In most cases, those shippers have seen a decline in their transportation costs within a year.
Better Carriers
The best freight brokerages offer more than access to trucks and equipment. They bring long-term, trusting relationships with reliable carriers. Brokerages that pay trucking companies on time and help them eliminate costly deadhead miles earn loyalty from those carriers. That loyalty benefits shippers in many ways. Brokers and carriers that work closely together can better anticipate freight needs from customers. That leads to service that is quicker, more seamless and results in fewer damaged deliveries.
Equally important is that the freight brokerage has a system in place that ensures each carrier is experienced, CSA-approved and meets shippers' standards. The most dependable brokerages and 3PLs stage regular audits of their carriers' performance and credentials. This information should include insurance coverage, customer satisfaction and safety ratings.
More Expertise
The challenge of moving goods in today's economy can seem overwhelming. For that reason, shippers have outsourced many of their transportation functions to freight brokerages and 3PLs. The best freight brokerages offer greater efficiencies and expertise than most shippers can develop in-house.
Meeting a company's shipping needs requires the ability to gather various pieces of information and apply them to current conditions in the transportation market. The best brokerages understand costs, the freight transportation process, seasonal trends and the ebb and flow of capacity. They offer technology that lets shippers to compare pricing, run reports and track shipments. Strong brokerages gain an understanding of shipping customers' supply chains, transportation spend and unique pain points.
With this information, brokerages and 3PLs can make the strongest transportation decisions and find the right trucks for shipping customers before that capacity disappears. For shippers, the right freight brokerage can be a trusted business partner offering the best chance of success in the complicated freight industry.
If you are ready to work with a 3PL dedicated to helping you streamline your operations, contact Ryan Transportation today.
Sources: American Trucking Associations, DAT Solutions, Stifel, Nicolaus & Co., Transport Topics, Inbound Logistics, Commercial Carrier Journal, TruckingInfo.com, Fleet Owner